5 TRENDS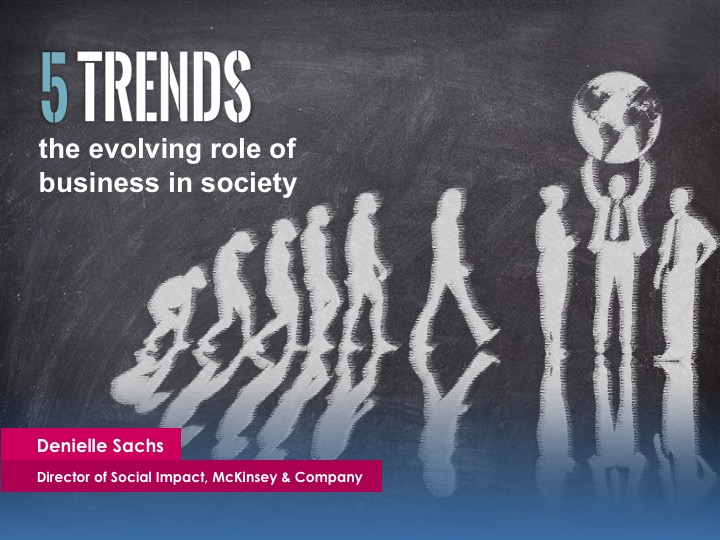 When I started my career, I held a lot of preconceived notions about the role of business in society. I wanted to be a journalist and had visions of being in war zones, covering walk-outs, holding government and business accountable. But on day one of my first job, I accidentally found myself at the epicenter of the corporate boardroom – watching how the most powerful institutions were responding to major crises – from hostile takeovers and product recalls to natural disasters and political instability, I was at the very nexus of where business and society meet and I saw how complex the incentive structures are for businesses.
Today, after 18 years in this business, I've seen companies confront increasingly strategic questions about its role in society, and wrestle with where its responsibility lies. Questions such as, how close or how far from the core business is social impact? How should reputation be weighed against impact in driving decision-making?

In wrestling with these questions, I've seen the following five trends emerge...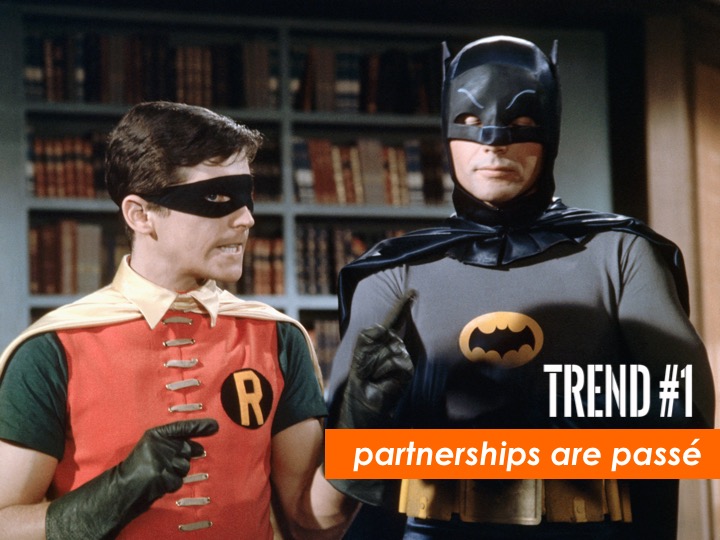 As the walls between the public, private and social sectors evaporate, partnerships are no longer a novel idea. I can remember the days when"Public-Private Partnership" was a sexy concept – the so-called "PPPs." Today, the "PPP" feels passé. Partnerships are a given. We know that no single institution can solve a major social issue on its own, and trying to do so results in duplication, at best, and unintended negative impacts on people, at worst. And so, it seems the question we should be asking is not IF or SHOULD, but rather HOW to partner.
Where -- in relation to your core business -- does social impact lie? In the past 20 years or so, the institutional landscape for social impact has fundamentally changed. It's no longer an ecosystem of non-profits, companies and governments – no, these actors have been joined by all sort of hybrid organizations, they have, themselves, evolved, morphed and reemerged as new entities --
First, consider the emergence of social enterprises. Social entrepreneurs are developing innovative business models that blend traditional capitalism with solutions that address the long-term needs of our planet.

They are tackling chronic social problems, ranging from healthcare delivery in sub-Saharan Africa to agricultural transformation in East Asia and public-school funding in the United States. And all of this is happening within the framework of a for-profit business model.

Secondly, there has been a groundswell of brands that are distinguishing themselves by building social impact into the core of their brand. I often think of companies like Patagonia or Ben and Jerry's. When Ben & Jerry's made the switch to non-GMO products, an Oregon cherry producer decided to switch from genetically modified beet sugar to cane sugar in order to retain Ben & Jerry's as a customer. Imagine doing this for over 200 products and ice cream flavors some of which have hundreds of ingredients.

This is an exhaustive undertaking – fraught with challenges and risks – but it defines them as a brand…And it is not only having an impact on their products, but is having a transformative effect along supply chains.

If social impact is close to your core business, then the impact made through basic business decisions can resonate on a much greater scale.
When I started my career in investment banking in the late 90s, the new York stock exchange didn't yet have email -- I would have to fax market-moving news – deals in the tens of billions – to a person at the exchange, wait ten minutes and call to confirm they got it, after which a whole faxing dance would begin….it could last hours. I'll spare you the details. The point is this --

–the days of fax machines, press-releases, one-way, top-down communications are long gone. You all know the obvious "why's" having to do with glacial shifts in technology, but there is also another, more nuanced current driving the new way business communicates, and that is this:

Trust in institutions is at an all-time low. According to the Edelman Trust Barometer last year: Less than one fifth of the general public believes business leaders and government officials will tell the truth when confronted with a difficult issue. This makes for a very difficult environment for corporates. And it means that brands – in order to have a license to operate, let alone a license to LEAD – need to find a way to RELATE to their audiences.

Enter corporate storytelling.

Corporate storytelling is about getting to the core of an organization's value proposition -- developing narratives that are relatable, simple and compelling. Stories that build empathy. Stories that get stakeholders to connect to your brand, and motivate them to think or act favorably.

As Kevin Spacey said to a network broadcasting audience, devices and formats don't matter. It doesn't matter how long it is, whether you're watching it on your ipad or on a TV. People want content. People want story.

And often those stories have nothing to do with the company itself and more to do with the people that the company impacts, the communities in which they're operating; the way a product empowered a young girl to become a leader in her community, or a device that connects families separated by continents.

What's interesting is that companies are having to take themselves out of the middle of the very conversations they are starting and put people at the center.

Take American Express: The company has developed a suite of products to serve the poor and unbanked in the US. But rather than launch a major direct marketing campaign, they've chosen to kickstart a national conversation about what it means to lack access to financial services. There has been an intense dialogue around unbanked populations in low-income countries – in particular in sub-saharan Africa. But nearly one-third of the U.S. population—106 million people—are either underbanked or unbanked. This is not a topic that tends to make the front page of newspapers back home.

The bottom line is this: businesses are becoming storytellers, and those that aren't risk falling behind.
Another thing that has been striking is the rise of the entrepreneur. When the so-called "Great Recession" hit in 2008, it destroyed millions of jobs and it was ng back.

The McKinsey Global Institutehas been studying the so-called "jobless recovery" phenomenon, and has shown that, over the last two decades, jobs have been recovering more slowly than GDP. Interestingly, one of the main reasons was low or falling entrepreneurship.

Well, we know that one of the most effective ways to create jobs and serve communities is to support entrepreneurship. And so with all this talk about economic recovery and a clear focus on creating jobs (which we saw dominate the global dialogue after 2008), we started to see massive shifts in where investments were flowing – not just in the private equity world, but also in aid, public welfare and philanthropy. We saw a new term was coined by the Aspen Network of Development Entrepreneurs -- SGB's: small and growing enterprises

A surge of government and civil society programs sprung up to kick-start enterprise creation. Even companies, some of whom had been responsible for large layoffs in the recession, started investing in entrepreneurship programs.

Even the major aid institutions started investing – in very visible ways -- in developing entrepreneurial ecosystems. The UK's aid agency –DFID -- announced their intention to launch a £70 million entrepreneurial ecosystem in Sub-Saharan Africa.

In short, entrepreneurship itself has become a tool for economic development. And while this might not be a new concept, it is a new time and it is remarkable to see what's happening in every nook and cranny of the globe.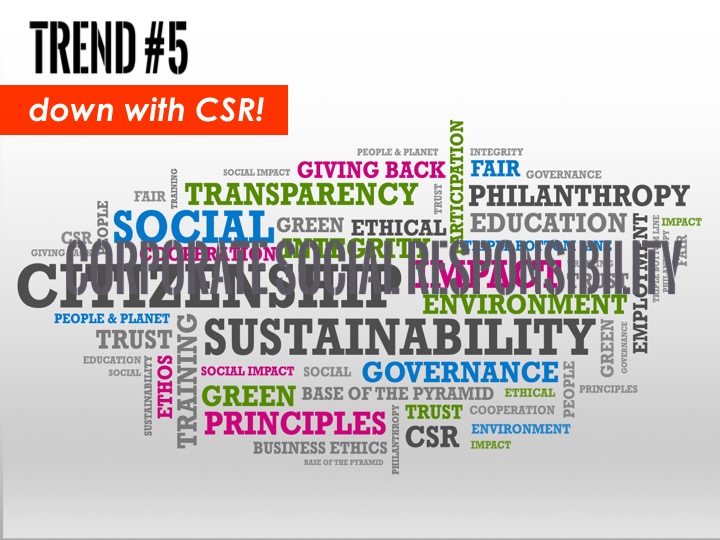 This last point is not meant pejoratively. CSR – corporate social responsibility – as both a concept and as a practice has evolved and, in many ways, democratized. Everyone has their own spin on it, which is evident in the language we see being used.

Over the years, there has been a noticeable, side-stepping away from the term "CSR." Part of this is due to the negative associations it sometimes provokes. So-called "green- or ethics-washing", and real challenges to CSR as an authentic trade.

This search for new language reflects our new expectations of what it means for a company to be socially responsible. In our information-rich, media savvy environment, there is no one-off philanthropic initiative that can distract from an utter lack of sustainability or responsibility in the core business operation.

And so this search for more meaningful language has resulted in some fascinating descriptions of CSR programs, not to mention job titles. Leon Kaye highlights a few of these titles in his CSR blog: Chief Greenskeeper, Chief Inspired Protagonist, and my favorite, the Green Enabling Officer.

CSR has not always and, frankly, not usually, been fully integrated into a company's core values and business. But that's also because this stuff is really, really hard. As we saw with the Ben & Jerry's example, it takes time and there are significant barriers. Supply chains are complex. Big institutions move slowly. Values are imbued over long periods of time.

BUTthe good news is that today I see many more businesses wrestling with the hard questions, grappling with what their role as corporate citizens is. Milton Friedman's notion of pure profit maximization is no longer viable.

So, while this trend is marked by language – let me be clear – it's more about the seismic shift in how big brands are addressing their impact in the world. It's real.
From the time 18 years ago when I accidentally found myself in corporate boardrooms, amidst heated crises, to where I find myself today, inside the machinations of numerous companies wrestling with the meaning of social impact – one thing is clear.

The decision-making process is not always straightforward but it is always informed by external factors. What is the role of our reputation in decision making? Is it reputation or impact that we are after? Or both? How much do we owe to stakeholders? How much do we owe to society?

Sitting at a boardroom table and grappling with those questions is to understand the complexity of doing right, doing good and doing business in the 21st century.